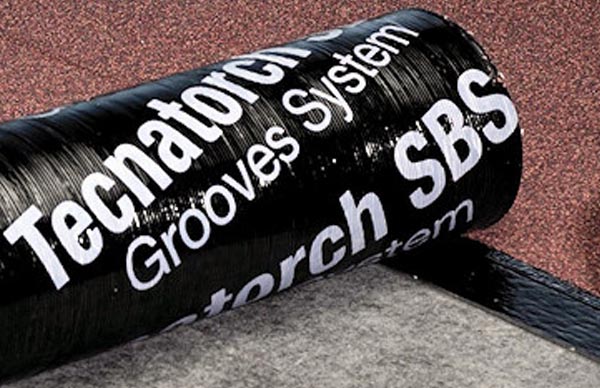 ICO Anderson Tecnatorch SBS
Anderson Tecnatorch SBS Mineral is intended for use as the capsheet layer within a bituminous built-up torch-on roofing system. The membranes utilise a special grooved adhesion technology. The self-finished mineral surface provides a decorative and solar reflective finish for the built-up waterproofing system.
Tecnatorch torch-on capsheets are designed to save time and money during the installation of new or refurbished flat roofs, while also ensuring exceptional, proven performance.
Tecnatorch is a versatile roofing system for use with the following suitably prepared deck types: Plywood, OSB3, Timber Boarding, Profiled Metal Decking and Concrete/screeded surfaces. As well as being used on new build warm roofs, Tecnatorch can also be used, subject to Icopal approval, on cold and inverted roofs and as a refurbishment overlay system.
Tecnatorch capsheets are also available in FireSmart
Features & Benefits
25% less gas and 30% faster application than traditional torch-on membranes.
Exceptional bond strength.
Greater lap security.
Safer low flame application.
Easy to cut, handle and apply.
Wide choice of colours.
– See more at: http://www.icopal.co.uk/Products/Bitumen_Roofing/Torch_On_Roofing/SBS_Torch_On_Membranes/Tecnatorch_SBS_Torch_On_Capsheets.aspx#sthash.bt3AMjXR.dpuf
Technical
Warning
: Uninitialized string offset 0 in
/var/www/vhosts/roofingtradeservices.co.uk/httpdocs/wp-includes/class-wp-query.php
on line
3738