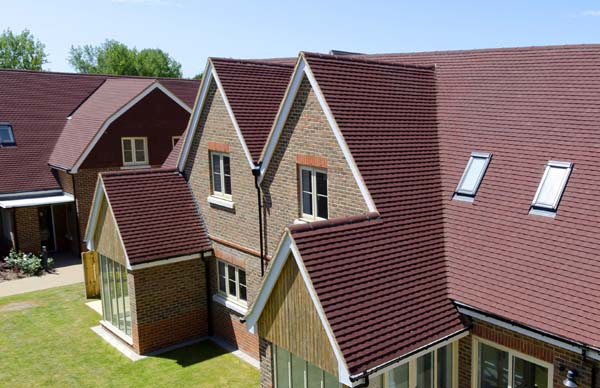 Marley Eternit Concrete Plain Tile
Ideal for classic roof designs, such as dormer and eyebrow windows
9 different colours to provide wide design choice
Can achieve an A+ rating in the BRE Green Guide to Specification*
Accredited to the BES 6001 standard for responsible sourcing
The authentic, traditional design of the Marley Eternit Plain tile gives it the looks to match its outstanding versatility. The plain tile is especially suitable for details such as dormers, eyebrows and conical roofs as well as vertical cladding. This popular concrete plain tile comes in both smooth face and granular finishes and the choice of 9 attractive colours.
Our concrete tiles can achieve an 'A+' rating (the lowest environmental impact) in the Building Research Establishment's Green Guide to Specification (* element ref: 812410007, 812410018, 812410049).
Accreditation to the BES 6001 framework standard for 'Responsible Sourcing' means that projects using our concrete tiles can now achieve extra credits under BREEAM and The Code for Sustainable Homes. Click here to find out more.
Technical
SIZE:
267mm x 168mm
WEIGHT:
73.8kg/m² (0.72 kN/m²) at 100mm gauge (roof) 58kg/m² (0.57 kN/m²) at 115mm gauge (vertical)
NAIL SIZE:
38mm x 2.65mm